Articles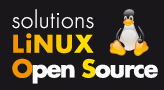 An important part of the Dolibarr development team but also some members of the Dolibarr foundation will be present for the Solutions Linux 2011 council in Paris (The 10, 11 and 12 of may at the CNIT - Paris La Défense - Hall Marie Curie).
A meeting will be presented on tuesday 10 of may from 15H20 to 15H55 by François Legastelois (technical and development part) and Pascal Aubry (functionnal part) from Teclib company.

Dolibarr plugins/addons...
Dolibarr partners
Dolibarr local communities
Local communities for your country/language
See here to create a community for any other country