With the Survey module, ask your employees or partners to give their opinion on a question. The module creates a link to be sent by e-mail, giving to your contacts an online access to the poll. You can create polls to determine the best date for a meeting, to vote for an election, or any other topic. Other options such as receiving email for each vote or writing comments can be enabled.
Create the poll or survey and add the questions you want to ask
Create the type of poll you need (date poll or standard poll). Define a title, a close date and a description that will be displayed on the poll page.
You can choose other options like :
Receive an email for each vote.
Allow voters to add comments in the poll.
Allow voters to see or not other people's vote.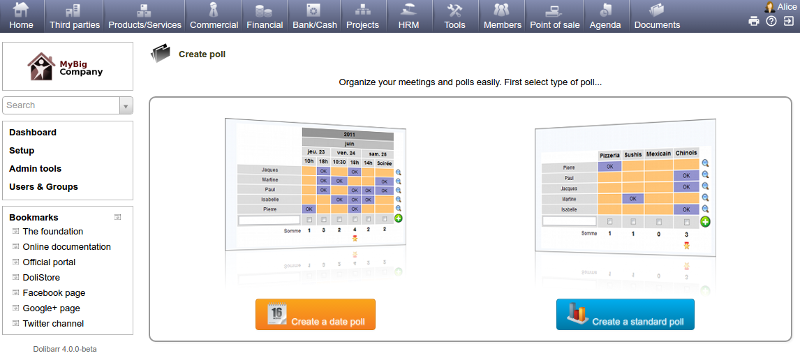 Dates poll :
Select different days / hours on a calendar.
Standard poll :
Input a label for each of your question/suggestion and choose if the answer shall be a checkbox or a list yes/no or for/against. Create as many questions/answers as you need.
The module will give you an URL related to your survey to allow people to vote..
Ask your employees, colleagues or partners to vote
Send the created poll link by email or put the poll link online on your website, so people can vote and maybe post comments. All this in a few clicks only.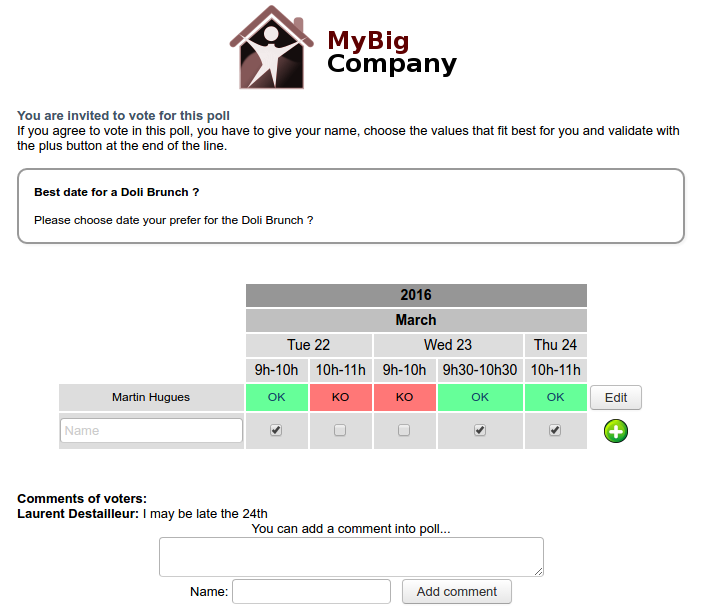 You can also use the mass emailing functionality of Dolibarr to inform your contacts of the poll !
Read and download the poll results
In the end, you can administer your polls and surveys, read, download and analyze the results of your polls and surveys from the back office. 

Retrieve all your polls, past, current and to launch. Find a summary of votes and details for each voters, read comments, close or reopen a poll at any time.