Open Source ERP & CRM for Business
(sme, freelance, foundations...)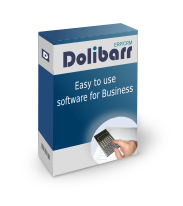 Dolibarr ERP & CRM is a modern and easy to use open-source web software package to manage your business (customers, invoices, orders, products, stocks, agenda, emailings, shipments...).
It's
opensource and free software
designed for companies (SME), foundations and freelances.
You can
install and use
it as a standalone application, or online on a mutualized or dedicated server to use it from anywhere. Working on all platforms (Windows, Mac, Linux, Mobile), Dolibarr system is also available as SaaS application on ready to use
Cloud services
.
This web site is official Portal with
news
,
forum
,
demo
and
download
area of Dolibarr project.
For more information on
roadmap
,
user or developer documentation
and
faq
on project, see
the Dolibarr wiki website
Download more feature...
...or develop your feature
Community
Used by millions of users worldwide, Dolibarr ERP CRM has become a major integrated solution in the Open Source world. Its user and developer community is growing day and day.
The foundation
The Dolibarr foundation was created in 2009 to promote Dolibarr ERP CRM software. This portal is hosted and maintained by the foundation. You can find more information about the Dolibarr association on this page. You may also find local communities for your country/language. See our wiki site to create a community for any other country.
Documentation
Take a look at this page to find resources about documentation.
Forum
A public forum is available to exchange about any topics related to installation, upgrade, or use of Dolibarr ERP CRM. Create your account and ask or answers questions here.
Developer tools
The Development is managed by the Dolibarr Core team. You can read the wiki site to get more information about who do what.