About the 20i FOSS Awards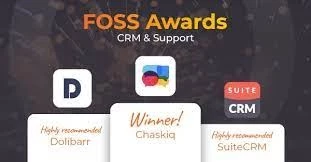 Dolibarr is proud to finish 2nd at the « 20i FOSS Awards » in the category « CRM & Support »

The 20i FOSS Awards celebrate the contribution self-hosted Free Open Source Software makes to our lives every day. From publishing new personal blog posts to managing an entire business, FOSS is the cornerstone for a lot of the daily creativity and productivity. The quality of this free software also keeps hitting new heights. The 20i FOSS Awards recognise all the hard work that goes in to developing the tools we rely on so much.
---
Dolibarr ERP & CRM is Open Source software. You can download, use and redistribute it at any time. Do you want to test the latest version of Dolibarr?