Dolibarr is present at Paris OpenSource Summit 2017 (6 - 7 december)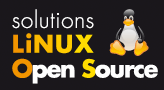 The Dolibarr team is present on the Dolibarr ERP & CRM stand during the Paris Open Source Summit congress (POSS), in Paris, the 6th and 7th december 2017.
---
The congress is free for professional. If you are near Paris, feel free to meet us...
Note that you can obtain your pass now, online, using this subscription page
---
Dolibarr ERP & CRM is Open Source software. You can download, use and redistribute it at any time. Do you want to test the latest version of Dolibarr?