How could I change page title and image?
HI.
Did you get the answer for your question ? If yes please tell me too because I also want to change page title
Hello

can you give a screenshot of what you want to change
depending on which page you are, the title bar change with the selected function…
and what about the image you want to change
Good continuation
Setup -> Other Setup:
MAIN_APPLICATION_TITLE = Your Title
Hi, Firstly thanks for reply.
I want to change this text
Third parties/contacts to Marketing
Go to setup -> translation and overwrite the following translation strings to remove Third parties. In my case I renamed it to business. It's a little shorter and more logic for our business case.
en_US ThirdPartyContacts Business contacts
en_US ThirdPartyContact Business contact/address
en_US ThirdPartyName Business name
en_US ThirdPartyEmail Business email
en_US ThirdParty Business
en_US ThirdParties Businesses
en_US ThirdPartyType Business type
Their are a few more to translate just search for: ThirdParty and translate accordingly.
Good luck
HI thanks for the support .I am trying to overwrite the translation but it's not working. What I am doing wrong?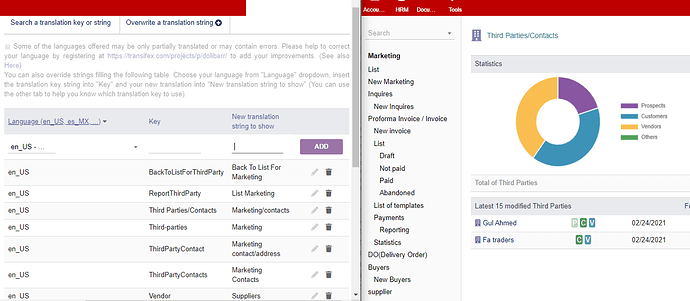 You probably don't do anything wrong, you just didn't get the perfect entry yet.
Do a search for Third Parties/Contacts and see what comes up. Since mine is already overwritten i am not able to do the search myself.
Hey
Here is the answer


found in the file /langs/en_US/companies.lang
:

Good continuation
Its Working


You save my day Thanks alot .
Hey
The best way to change this text : using the translation function
if you change in the companies.lang file, you will lose this translation with next update !!!
Good continuation