Hi there,
There have been a lot of posts of this topic and I even made a post myself, the fix back then was the force update:
Illegal mix of collations
Fix:
Error when checking Latest movement - Full List
But now I run into the problem again and this time face flat against the wall like last time, when trying to run the /install/repair.php?force_utf8_on_tables=confirmed nothing happens.
I have now tried to update the tables manually (I am no database expert) but now I get an error that the "specified key is too long". I am a little uncertain what is wrong now.
Please see this screenshot and appreciate any support again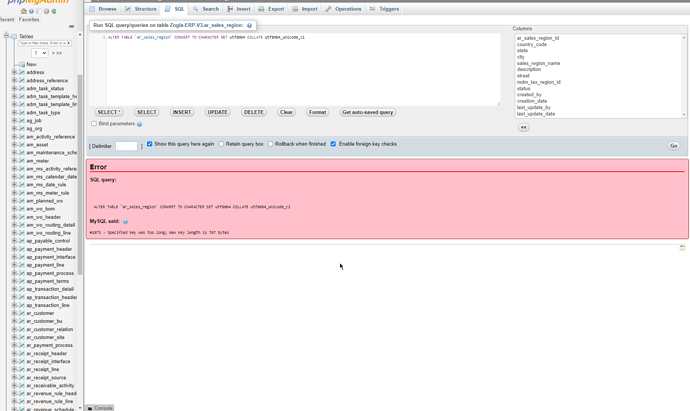 Info from the installation Admin Tools page:
Dolibarr current version (Programs) 14.0.4
Initial install version 3.6.1
PHP_OS Linux
Version Linux 2.6.32-954.3.5.lve1.4.86.el6.x86_64 #1 SMP Tue Aug 31 17:08:39 UTC 2021 x86_64
PHP 7.4.23
Version MySQL or MariaDB 5.6.51-cll-lve
Database host localhost
Database charset to store data utf8mb4
Database charset to sort data utf8mb4_unicode_ci