What Is The Dolibarr ERP and CRM Capable Of?
By now, you probably know the importance of having an ERP and CRM. The former helps you to ensure everything is running smoothly internally. For instance, it helps you manage finances, inventory, planning and production, and much more. The latter, on the other hand, gives you the power to effectively and efficiently manage customer relationships. So, we know that these systems are must-haves.
The issue, however, is finding the right ERP and CRM for your business. It can be tough to find the perfect one, especially since there are so many options available. We suggest the Dolibarr ERP and CRM, of course. With its multitude of features and highly customizable nature, you can't go wrong.
In this article, we'll convince you that Dolibarr's ERP and CRM is the option you should go for. We'll tell you everything the systems are capable of. Read on to find out more.
What To Look For In Your ERP and CRM
Often, the most challenging part about choosing an ERP and CRM for your organization is knowing what it is you should look for. But, choosing the right one assists you to work smarter, and increase efficiency and visibility across your organization. As such, it is imperative to make the right choice, and therefore you must familiarize yourself with what to look for in these systems.
ERP
For your ERP, there are five main aspects that you need:
Flexibility and Scalability - You do not want to eventually outgrow your ERP. And, similarly, you don't want to be stuck in a situation where you need additional features but can't get a hold of them. This means that when you're choosing an ERP, you must consider how flexible it is. Will it be able to scale to your needs?

Easy to use - Is the system user-friendly? If not, then you might want to look for a different one. A system that is not user-friendly is likely to cause a lot of problems and time-wasting.

Long-term affordability - Up-front costs are one thing, but will you be able to afford the system over time? This is an important consideration, especially for smaller or newer businesses.

Recommendations - An ERP that has several happy customers to vouch for it, is more likely to be a good one than an ERP that has nobody to vouch for it. Always ensure that there are testimonials from other users, to ensure that you are not buying into something that doesn't work as well as it markets itself.

Mobile capabilities - These days, meetings are out-of-office, and your workforce is on the road more often. As such, mobile compatibility is extremely important.
CRM
Similar to your ERP, your CRM needs to be user-friendly, compatible with mobile phones and must come with good recommendations. But what else should you consider for your CRM? Here are three factors to think about:
Tools - Your CRM should help to make your sales team more effective. For this reason, you should consider what sales process tools the system comes with.

Integration - Often your CRM must be integrated with other systems that run within your organization. As such, the ability to integrate is an important factor when considering which CRM is best for your organization.

Reporting - Your CRM should be capable of providing you and your sales team with reports on various sales figures. For instance, you need sales and pipeline reports so that you will know where to focus your sales efforts.
As you will see below, the Dolibarr ERP and CRM systems have all of these features and more, making it the best option for you and your organization.
What Can Dolibarr's ERP and CRM do?
Dolibarr systems are highly customizable, allowing you to enable only the features you need for your organization. This means that you can build your system to be exactly what you want it to be. Further, you can choose between a free version or a paid hosted version, depending on the amount of money you want to spend. You also have the option of using these systems on your mobile devices.
What makes it even more attractive is that Dolibarr has a community forum from which you can gain insight into how well the systems are working, and how to better your use of the systems. Below, you will find all of the features that you can enable on Dolibarr's ERP and CRM.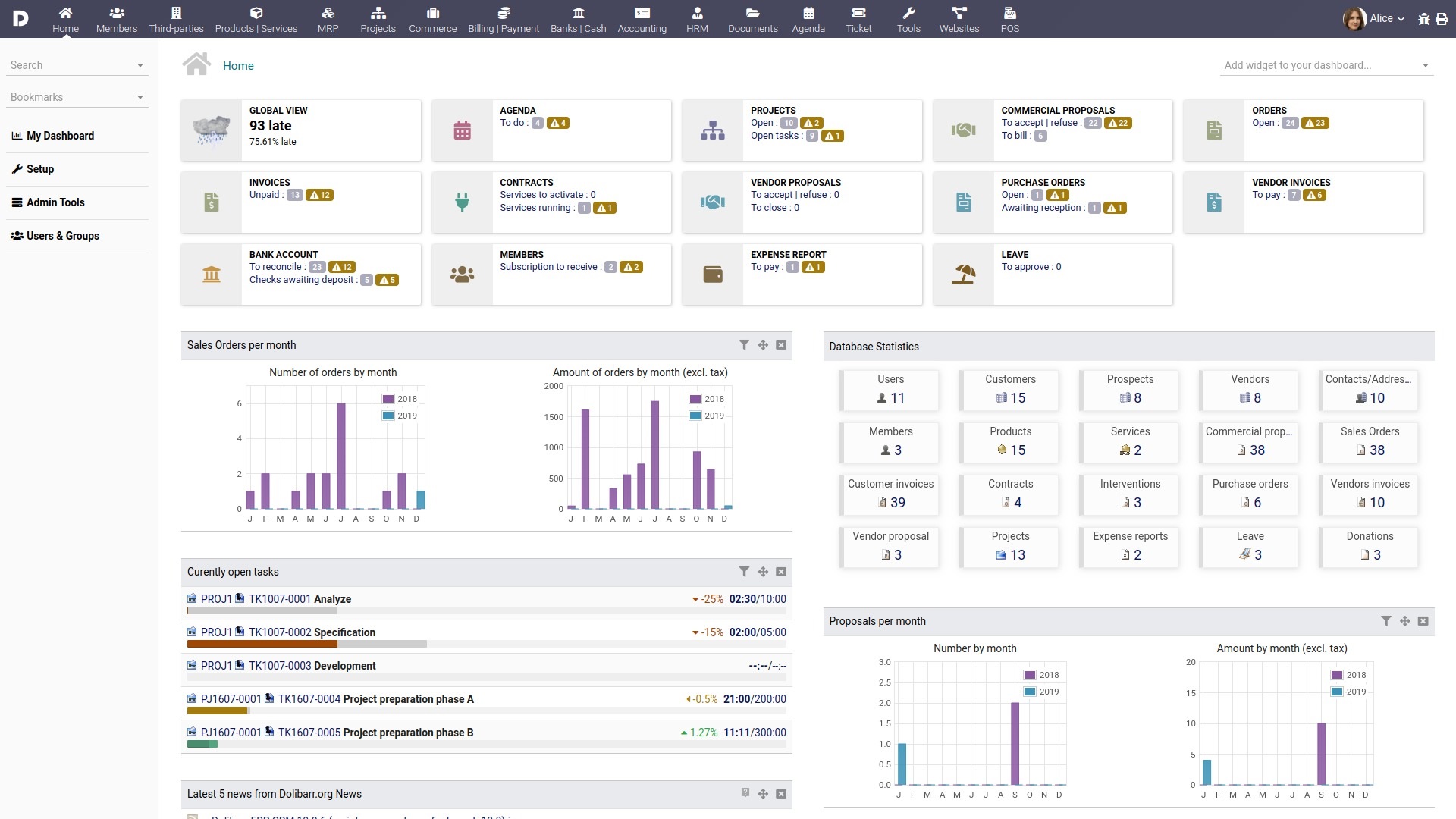 Dolibarr ERP Features
Products And Services Catalog
Build your product and service catalog and easily keep it updated with this useful feature. You can define the prices, tax rate, dimensions, stocks, and any other information on each product.
Invoice and Payments management
You can create your invoices on the application, and even generate them from proposals or orders. Invoices can be sent straight from the application and from there you can track the payment of the order. The application will even remind you of unpaid invoices so that you can follow up on them if you want to.
Stock Management
With this feature, you can control your warehouses and use them to hold your products and specify movements. In addition, you can keep track of your inventory using references, serial numbers, or even by the warehouse.
Shipping Management
Using shipping management, you have total control over the delivery of your products to buyers. You can create shipments, specify delivery dates, and create any custom fields that you need. What makes this feature even better is that when you create a new shipment, your stock will be automatically updated to reflect the change in inventory that the new shipment causes.
Double Entry Accounting, General And Auxiliary Accounting
This is a feature dedicated to your accounting needs. You can keep a record of all sorts of financials, like sales, purchases, expense reports, salaries, and much more. These can be quickly transferred into ledgers, saving you the time of manually doing your accounting, and the extra expense of hiring a bookkeeper.
Leave Requests For Employees
You can specify the types of leaves allowed in your country, for example, sick leave, annual leave, or maternal leave. After defining your fields you can define how each is managed and give your employees access to use this feature to request the leave they need.
Dolibarr's ERP also handles various other human resources tasks. You can manage your timesheets, recruitment efforts, and your existing workforce using the ERP.
Point of Sale
For those who have physical shops, this feature is very important. The point of sale interface comes with everything you need, allowing you to manage tables in your restaurant, display a QR code, and even comes with the ability to automatically update stock when an order is made.
Mass Emailing
You can send mass emails from the application, and even create email campaigns with ease. You have the option of using a WYSIWYG editor or an HTML editor to create the campaigns. What's more, is that you can personalize the email for each recipient by simply filling in specific information like their names and email addresses.
CMS Website
Using the information in your ERP, you can easily build a website for the use of the public. You are able to use templates, which means the site can be up and running in no time, with barely any effort at all. If you have the more technical knowledge and want to customize some aspects of your website, then you also have the option of using an HTML or CSS embedded editor to build the website.
Projects Management
Manage all of your ongoing projects from one convenient location, rather than in several separate places. You can use this feature completely according to your specific needs. From following leads and opportunities to tracking internal and supplier projects, you have everything at your fingertips.
In addition, you have the power to allocate tasks to specific people, specify who has access to the project, and record how much time has been spent on each project or task thus far. This ensures that all projects run smoothly, and you have complete control over everything.
eCommerce
If you have an eCommerce platform, you can integrate it with Dolibarr's systems. Most external eCommerce solutions are supported.
Other Features
Other features that you can enable on Dolibarr's ERP include: bank accounts management, commercial actions management, direct debit and credit transfer management, expense report management, following social and fiscal tax payments, agenda with ical and vcal export for third tools integration, EDM/DMS (Electronic Document Management / Document Management System), and more!
DoliBarr CRM Features
Customers, Prospects or Suppliers directory
This powerful feature allows you to customize your database of customers and prospects. You can easily search for the client by typing their name and the customer code that you have allocated to them into the system. In addition, you can record all information connected to a customer in this directory, including their email, language, the amount payable, date of purchase, and much more.
When it comes to your prospects, you can connect a status to it, showing how close they are to making a purchase. You are also able to create and save any quotes for your clients using this feature.
Commercial Proposals Management
You can create an entire commercial or customer proposal very easily using this feature. With one simple click, you can have a quote or proposal ready, by using a previous proposal and predefined products. From there, you can send off your quotes directly from the application.
Contracts Management
Dolibarr gives you the power to fully manage all aspects of your contracts with this feature. From generating contracts to creating invoicing and tracking the status of each contract, all the information is available to you at a glance.
Other Features
With Dolibarr's CRM, you can also enable features that include opportunities, a help desk, and sale orders. These ensure that your sales team is working efficiently and that they have all the information they need to be successful at selling your products.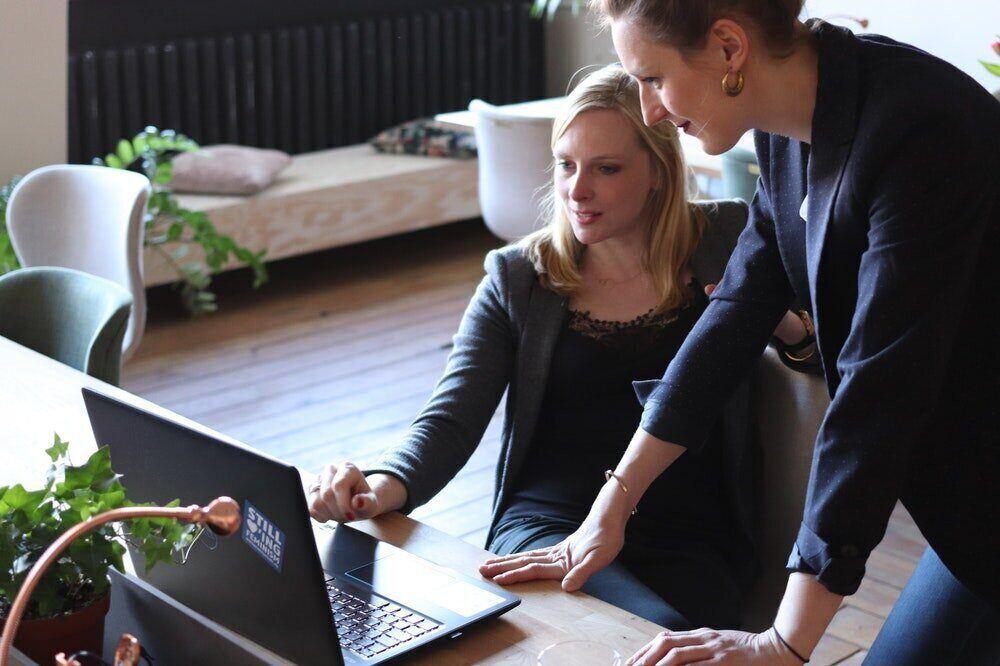 Final Thoughts
As you can see, Dolibarr's ERP and CRM are capable of everything you want and more. Not only is it available on mobile, but it is also affordable and comes with a multitude of features that will ensure that your business is always performing at its best.
Furthermore, you can customize Dolibarr's ERP and CRM to suit your organization. This means you'll always have the features that you require, even as your needs change. So what are you waiting for? Get Dolibarr's ERP and CRM today!
---
Dolibarr ERP and CRM is Open Source software. You can download, use and redistribute it at any time. Do you want to test the latest version of Dolibarr?