Dolibarr gives you the ability to follow-up your prospects and customers and reuse them with other modules.
1 - Create your prospects or customers
Just enter the name of the third party and its type (prospect and/or customer) to create it in your database. A unique reference will be automatically set according to your numbering rule.
Yet, a lot of other data can be recorded to make a more accurate management of your third party database (email, address, languages, ...). If predefined fields does not suit you, just create yourself all attributes you need.
Assign your sales representatives to your prospect or customers if you need to get sales statistics for each of them and Assign tags to classify them.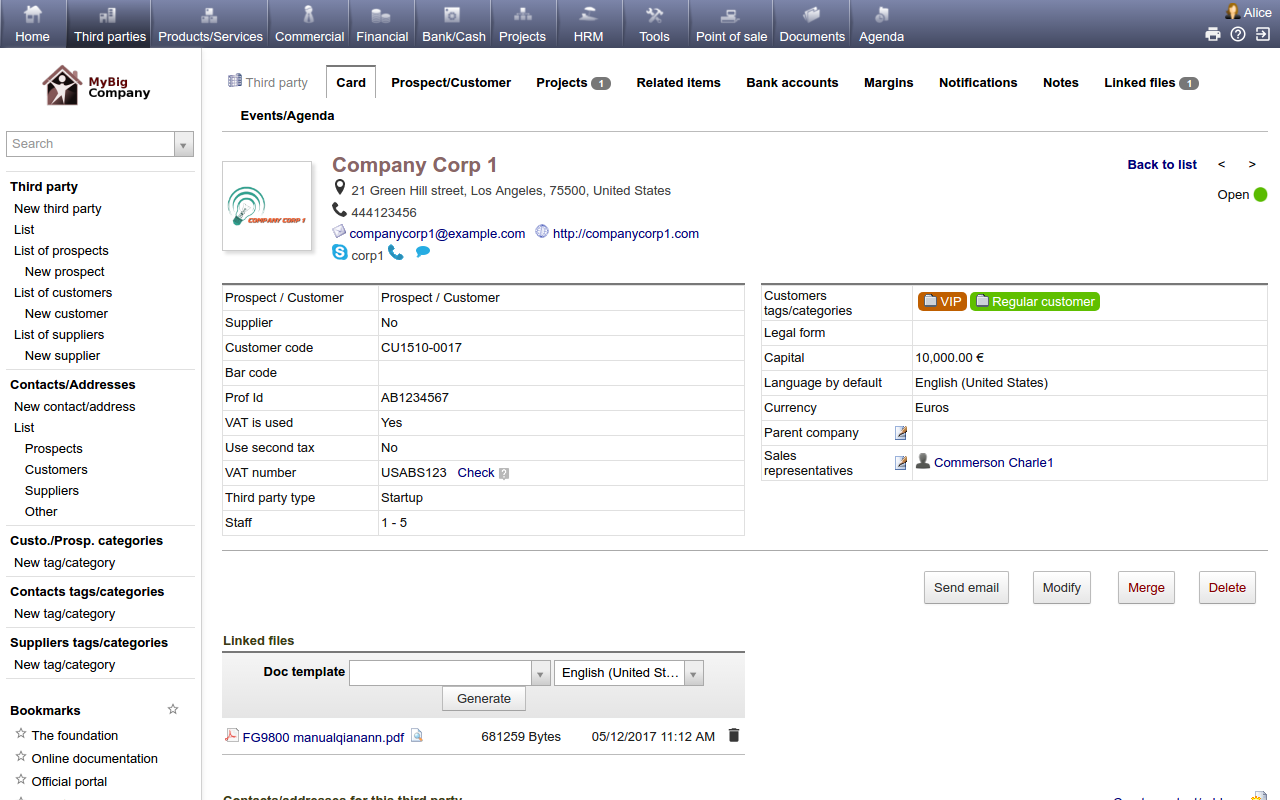 2 - Create alternative contacts/addresses
If you need, you can create alternatives addresses for each or your prospect or customer record. Assign a third party contact to a business document and display his name in the recipient area of your proposals !

3 - Set status and potential for your prospects
If you need to, set your prospect contact status and potential. You can define the different prospect potential/level you need.
No need to spend time to modify the prospection status after a contact, just modify the status in one click from your list without opening the prospect card.

4 - Create proposals and convert prospect to customers
Create commercial proposal or Create orders or on any prospect or customer from the menu or directly from the third party sheet and converted your prospects into customers automatically. 
5 - Follow-up your prospect and customers
List and filter your database on any attributes or status.
Reuse your prospect or customer database to send mass emailing with the Mass emailing module
Export your database with Export module to reuse your qualified record with other external tools.
Never miss an appointment with the agenda view applied on your prospects ! Find all the events related to your prospects such as proposal created, invoices validated... and many other data depending on the module Agenda settings.