Details

Written by

eldy
The Dolibarr task manager allows you to report to Dolibarr team development, any new feature or enhancement you would like to see by default into standard distribution of software.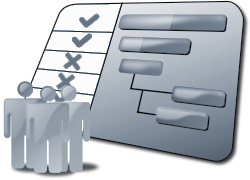 Task manager:

The task manager is shared with the bug manager. Just add the tag "Feature Request" when you create your ticket. Manager is available here:
https://github.com/Dolibarr/dolibarr/issues
Roadmaps:
For information about Roadmap, see the Roadmap developer wiki page.
Details

Written by

eldy
Dolibarr ERP/CRM is a software package built by modules addition (you enable only features you need), to manage small or medium companies, freelancers or foundations. We can say Dolibarr is an ERP or CRM (or both depending on activated modules).
It's an OpenSource project base on a WAMP, MAMP or LAMP server (Apache, Mysql, PHP for all Operating Systems). Dolibarr differs from other ERP or CRM softwares (like OpenAguila, OpenBravo, OpenERP, Neogia, Compiere, etc) because everything was made to be more simple:
Simple to install
Simple to use
Simple to develop

Note that Dolibarr is also available with auto-installers for users with no technical knowledges to install Dolibarr and all its prerequisites (Apache, Mysql, PHP) with just one package. Those packages are :
DoliWamp, an auto-exe installer for Windows users.
DoliMamp, an auto installer for Mac OS X users.
DoliBuntu, an auto installer for Linux Ubuntu/Debian users.
For other OS, you must manually install the "standard version" and all its prerequisites.
This is a summary of main Dolibarr features...
Main modules
Products and services catalog
Stock management
Bank accounts management
Customers, Suppliers or Prospects directory
Contacts directory
Commercial actions management
Orders management with PDF generator
Commercial proposals management with PDF generator
Contracts management
Invoices management with PDF generator
Payments management
Standing orders management
Shipping management
Support NPR VAT (for French DOM-TOM)
Foundations members management
Bookmarks management
Emailing
Agenda
Point of Sale
Donations management
Reporting
Data export tools
LDAP connectivity
A lot of other official or non official modules (AWStats, Bittorrent, Gravatar, Google, Webcalendar...)
Miscellaneous
Multi-user, with several permissions levels for each feature.
Several menu managers (can be used by internal users, as a back-office, with a particular menu, or by external users, as a front-office, with another menu and permissions).
Very user friendly and easy to use.
Several skins.
Code is highly customizable (a lot of use of modules).
Works with Mysql 3.1 or higher, experimental support for PostgreSql.
Works with PHP 4.3 or higher.
Details

Written by

eldy

Un module permettant d'utiliser FCK Editor, un excellent éditeur html WYSIWYG, a été ajouté à Dolibarr.
Il est pour le moment disponible uniquement dans la version CVS, mais sera disponible dans la prochaine version (2.1).
Pour le tester, vous devrez activer le module fckeditor dans la page de configuration des modules.